Reading & Chesapeake Railroad Keystone Division - My 2nd Layout - Kissimmee, FL
| | |
| --- | --- |
| Dispatcher CTC Panels | Realtime Layout Status |
---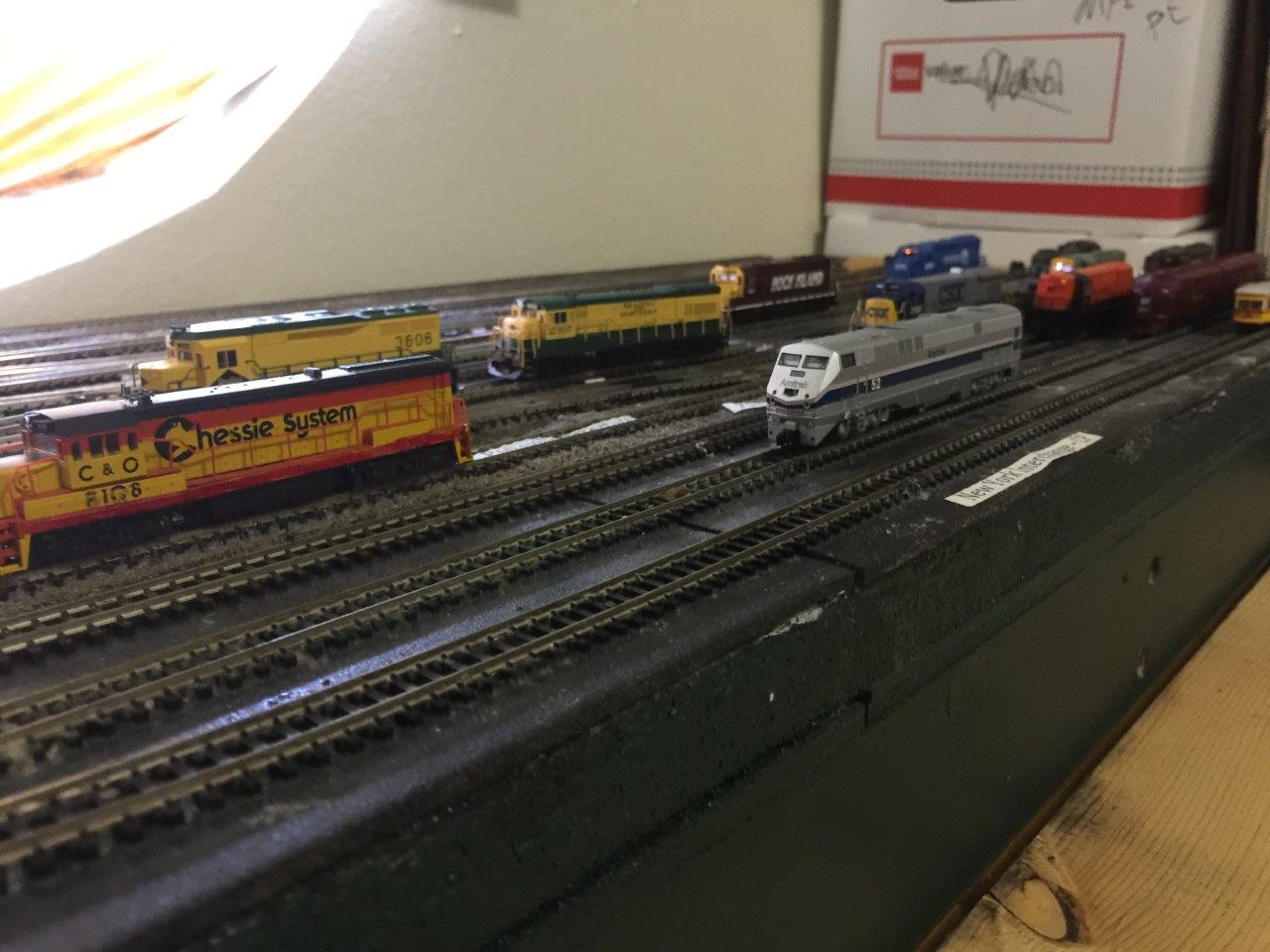 | | | |
| --- | --- | --- |
| Philadelphia Yard | Reading Yard | Pottsville Hostler Yard |
---
| | | |
| --- | --- | --- |
| Erie Yard (Staging); | Erie Yardmaster Routing Control Panel | Dispatcher Warrants |
End-Point to End-Point running requires three passes around the walls - highly compressing Height as well as Length and Width.
---
Recent Work
We developed several CAB view camera cars using Raspberry Pi Zero W computers. These computers run the Linux Opeating Systems (derived from the Bell Labs Unix OS) and includes support for: a camera attachment, an Micro SD chip, 2.4Ghz (not the 5Ghz preferred) WiFi, and multiple methods for power attachment. For more info see (2021) RPi Cab Cam Car!
We recently implemented support for remote operators with current scenes from six Zoom cameras and with remote Throttles plus annotated Turnouts and Routes and with a Real Time Display of track status. The Real Time Display track status allows operators to view their train progress within the total layout as a complement to the local area Zoom camera scene and while transitioning to the next camera scene. The real time status screen allows the operator to see front and rear approaching tracks' occupancy, turnouts states and signal states. (2021)
My Walthers 130 foot DCC turntable is used by Hostlers and the Power Manager to receive or handoff Locomotives (and Cabooses as required) from/to yardmasters and engineers/conductors. Turntable can be commanded using the Walthers/Heljen controller or Digitrax Throttles or JMRI PanelPro Turnout commands. (2020)
Use this link to view sample scripts for the two robot trains used in our collision avoidance video.(2019)
Roundhouse foreman tuned road, yard and stub locomotives for Track Class 1 Operations speed ranges. We also upgraded locomotives to Microtrain magna-matic couplers for improved switching Operations.
For better reliability during operations, we are tuning Peco Mainline and Philadelphia Yard turnouts. This includes supplementing point power routing with polarized power to frog leads and to metal frogs where available. We are replacing turnouts where tuning is not successful.
About 250 cars are needed to support OPS at this time. All 200 plus cars used in switching activities have Micro Train couplers, Fox Valley 33" wide 0.540 metal wheels, and weights to bring into NMRA specifications. In the future we plan to add 1 resistor axle to each freight car used in operations. We currently have added one resistor axle to each caboose and it is insufficient to trigger some of our blocks so we may double resistor axles on Cabeese.
Our communications system is a Wireline Telephone PBX connecting our Dispatchers, Yardmasters and Conductors.
OPS work approach on the R&C Keystone Division Railroad
We really enjoyed particpating in the 2017 NMRA Convention Self-Directed Tour! A steady stream of over 30 Model Railroad Enthusiasts from all over the Northern Hemisphere visited the Reading & Chesapeake Keystone Division on August 5, 2017 from 9 AM to 8 PM. Click here for a slide briefing used to introduce the railroad to our guests.
Superintendent's first OPS Session Documents
Reading & Chesapeake Operations 'Paperwork' creation tools
Robot Train Specification and Implementations (2017); Avoiding a Cornfield Meet; Some Complex Robot Train Runs. To learn more about how this Collision Avoidance works, take this link!
Videos of my Layout (various from 2010 to 2015). You can see these and other videos on my MrStarmaker You Tube account
A November 2011 R&C Keystone Division video by Jared Davis of Whistlestop Productions
Notes:
In 2009 we began to build advanced features into our 2nd layout, the Keystone Division of the Reading & Chesapeake Railroad. We expect to surpass our earlier Gettysburg Blue and Gray Divisions effort in storyline, automation and scenicing.
Railroad Work Halted 2012 to June 2014!
Since July 2014 we used 3D Printing to create Signal dress-up shrouds for our many Digitrax Signals. Some Model Railroaders asked about acquiring these signal shrouds so we added a store on Shapeways.com. If you are interested., go to the store called 'ModelRailroader1' to order shrouds.
We also refined lots of trackwork, restored some models and landscaping, debugged some hardware, and began video creation projects. By April 2015 we developed a robot loco script generator in MRRM that will run under JMRI control.
---
In these Covid-19 times, we might resurrect an early option in MRRM called MLO or Multiple Layout Operations.
---
Kissimmee Layout Information (2007 to Current Date)
Kissimmee Layout Room Deck & Wall Carpentry through First track work mid 2007 through 2008; ther Construction information
Read the Keystone Division Description to learn about this railroad
Some History behind the Industries modeled
Learn about the layout's Trackwork Features
What kinds of Trains are run?
Review the Technology used to build the Keystone Division
Here is an up close view of Model Railroad Manager (MRRM). MRRM and JMRI software dominate my Layout operation.
---
Credits to those who influenced me!
We began to use JMRI on our first layout in 2002 in conjunction with initial MRRM software development. Thank you, Bob!
Tom Stack, NMRA Sunshine Region, Eastern Division
---
Reading & Chesapeake - My 1st Layout
(Gettysburg, PA 2002 to 2004)
---
For Sale
---
Model Railroad Manager
Model Railroad Manager endorses the use of and contributes to the JMRI Open Software initiative. MRRM interfaces to JMRI include
real-time commanding of turnouts and signals, real-time feedback of turnouts, signals, sensors, and Digitrax transponders, loco and roster xml file exchanges with Decoder Pro,
generation of JMRI automation scripts, and other JMRI features. These tools can create XML snippets to paste into your JMRI configuration or panel xml files. Click on the icon to visit the JMRI home page.
---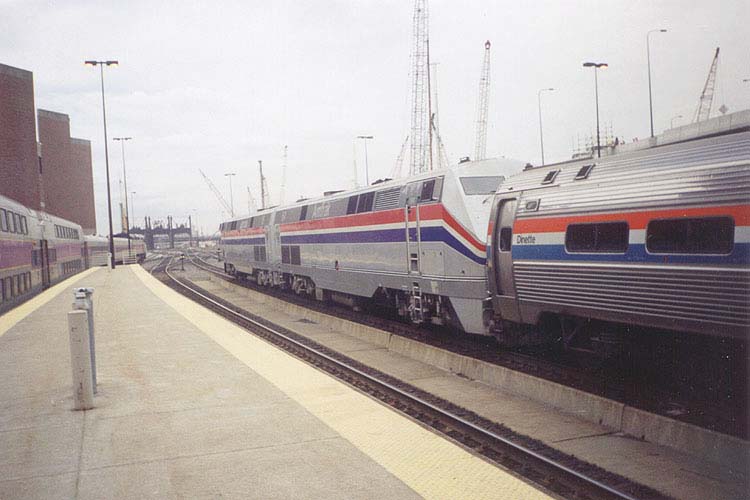 ---